The Edmund Rice Christian Brothers Art Foundation is sustained by the contributions of patrons and benefactors and the occasional sale of selected pieces from the collection.
Funds are used to conserve and promote the collection and to foster art education in the participating schools.
We are appreciative of those whose donation of art, time, talents, and treasure have launched the Foundation.
Our Founding Patrons include:
Kenneth Chapman, CFC
Joseph B. Darcy, CFC (RIP)
Antony Halaris
Thomas and Mary Lesser
Michael D. Lucas, CFC (RIP)
John J. McCarthy, CFC
Patrick Sean Moffett, CFC
John Mostyn, CFC
JoAnn Mazzella Murphy (RIP)
John Reynolds, CFC
Raymond Smith, CFC
C. Michael Valdes, CFC
Kenneth Wolf, CFC
Iona College
Edmund Rice Christian Brothers North American Province
Consider a Contribution
Please consider a tax-deductible contribution to:
Edmund Rice Christian Brothers Art Foundation, LTD
260 Wilmot Road
New Rochelle, NY 10804
Levels of Giving
Suggested levels of giving:
Patrons: gifts of $5,000
Benefactors: gifts of $1,000
Supporters: Other monetary gifts
Acquisitions

Acquisitions afford another opportunity for supporting the foundation while acquiring an original work of art. At present there are four works of Br. Chapman being offered for purchase. See below the paintings for details.
Last Supper, 1966
Consigned by the artist to ERCB Art Foundation in 2017
Acrylic painting – 46" x 46"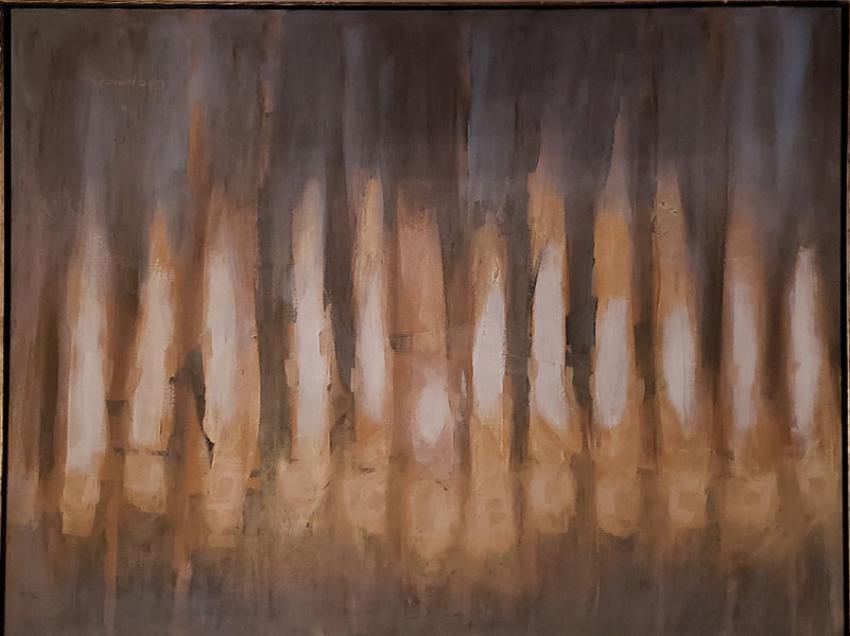 Certificate Of Authenticity: Yes
Issued By: The artist and ERCB Art Foundation, LTD
Signed: Signed lower right
Price: $48,000.00 USD
"Acrylic paint had just come onto the market and I began using it, as I had been doing with oils, in a rather fluid state. I was not yet using modeling paste or the palette knife with acrylic. Gold and white are my colors for the divine presence. Christ, who is central, gives himself to the apostles so that they also take on the color and light of the divine. On His extreme right there is Judas who did not take on the light-someness of divinity. Judas is a darksome figure, hardly formed, as though the painting was of Christ with eleven apostles. This was one of my very early nonfigurative paintings." – K. CHAPMAN
In 2016, the painting was appraised by MIR Appraisal Services, Inc. at $24,000. It is being offered at $48,000 (including a contribution to the ERCB Art Foundation of $24,000 — tax deductible in the USA to the extent approved by law).