Br. Kenneth Chapman, CFC
Click on the buttons below to check Chapman works filtered by theme.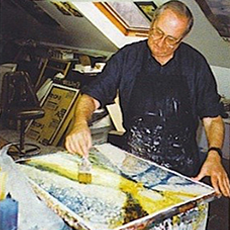 Br. Kenneth Chapman, CFC

Teacher and Artist for seven decades, Br. Chapman's art chronicles a profound spirituality, rich theology, deep mindfulness of creation, attentiveness to human emotion, and a fascination with the evolving cosmos.

In watercolor, oils, acrylics, and enamels, on paper, canvas, clay, and metal, he invites the viewer on a journey that evokes new ways of seeing and believing.
Brother Kenneth Chapman – Teacher and Artist
The Brother Arthur A. Loftus Visiting Scholar at Iona College for the academic year 1995 was Brother Stanis McGuire, CFC, originally from Australia, and for many years the Brothers' representative in the Prefettura of the Papal Household in Vatican City.
Br. McGuire, now deceased, dedicated his research to the art of Brother Kenneth Chapman, CFC.
The culmination of the work was a booklet with commentary and rich reproductions of many of the Chapman originals.
Out of print and hoarded by those fortunate to have obtained a copy, the work, thanks to the Edmund Rice Christian Brothers Art Foundation, is now accessible to everyone on this digital version below.
Click here for a full screen version of the magazine above.